Tailor Made Agronomy is the Key – Agronomist & Arable Farmer – Charles Wright
Posted on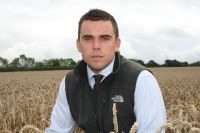 2018 Food & Farming Industry Awards Agronomist of the Year Charles Wright gives Frances Wright an insight into the life of the modern agronomist.
Good agronomy is about providing a tailor-made service according to customer requirements, says Farmacy agronomist Charles Wright, who was named Agronomist of the Year at the 2018 Food and Farming Industry Awards.
Born on a farm, agriculture has always been in his DNA – despite studying for a degree in geography at the University of Hull, the draw of farming was always strong and he returned to the sector.
Mr Wright looks after a wide range of farm businesses across highly intensive estate operations to contract farms and owner-occupied, with no two being the same.
His work covers combinable crops, crops destined for anaerobic digester plants and a big area of sugar beet across farms in south and west Lincolnshire and east Nottinghamshire.
As an independent agronomist for Farmacy, he provides far more than just recommendations for agrochemical applications, and also offers advice on areas such as the environment, varieties, budgets and growth margin calculation, including true cost of production.
Mr Wright says: "Agronomy is about having a holistic view of the farm practice, and you need to be part of each customer's business and decision-making process."
Reflecting on the past five years, Mr Wright notes that have all been very different from one another, but growers are upping their game in how to manage many of the problems – such as black-grass – thrown at them.
"Most growers are now aware of how to manage black-grass," he says, adding that cabbage stem flea beetle (CSFB) is a now major concern for OSR growers and there are currently no real options for control.
Looking to the future, he believes that precision farming, which is currently gaining traction among arable farmers, is likely to become more mainstream, allowing for more detailed analysis of farm businesses.
"There is already a lot of data collected on the farm which is not really used to great effect, so the secret to getting the most from precision farming will be to make use of it to greater effect," he comments.
There are a number of areas Mr Wright identifies as ripe for data collection, such as using technology for decision-making and recommendations for integrated pest management (IPM), which can help drive better efficiency and profitability.
"Agronomists of the future are unlikely to be responsible for collecting the data, but implementing actions from what they find out from its analysis."
With his own customers, he already forms an integral part of the farm team, advising on cropping plans and assessment of where particular varieties would give the best results.
"You need the right cultivation regime using the right variety in the right field," says Mr Wright.
"As seed traits develop, varietal selection will become more targeted towards its end use in the market."
Mr Wright also sees the future of agronomists as advisers to help farmers improve their assets, such as soil health.
"The challenge is that there is no one cultivation system to fit all circumstances, and all systems have a place," he stresses. "For instance, if you are on a min-till regime you may still need to do something deeper from time to time."
Although more growers are using no-till regimes, he finds that many still move too much soil, so agronomists will need to show them how to minimise cultivation where possible.
"The skill will be to ensure they are able to use the right cultivation practice in the right place," he adds.
Training farm staff also plays an important role.
"If you explain to the person sitting on the seat in the tractor what you are trying to achieve, and get them on board, the pay-off can be huge."
Moreover, when they are asked for feedback they feel part of the team.
He adds: "They are using expensive machinery and dealing with valuable crops, so looking after your staff and ensuring they feel valued is crucial."
Good stewardship, which demonstrates that farmers are working towards biodiversity, is also likely to become even more important in the future.
This means agronomists will increasingly have to help their customers implement environmental schemes within the rotation, such as cover crops to improve soil health and manage local eco-systems.
"There are schemes which use different plant species to encourage insects and invertebrates around the margins of the field, so getting the seed mix right will help increase diversity by attracting invertebrates from surrounding semi-natural habitat," he says.
"The profession has moved a long way from relying on chemistry as a control point.
"You have to work hard, but it offers lots of satisfaction and gives you something to be proud of."